Now that we have officially started our tours we have realized that some planning is needed. The Nebraska Tourism Commission has put together an interesting selection of 80 locations, broken into 10 categories of similar types of locations. It seems the idea was to give tourists a focus for the types of interests they might have; Museums grouped with museums; wineries with wineries; quilt shops with quilt shops and so on. They have done a nice job of grouping, and also of selecting locations dispersed from around the state. It didn't take long to realize that if we focused on a particular category and then another and then another, we wo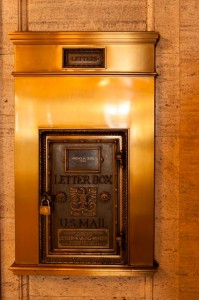 uld find ourselves backtracking and going to areas more than once. Nice as that might be, to cover all 80 locations in the allotted 5 months does not allow for too many side trips, or repeat trips! As a result we chose to list all of the 80 locations, by general proximity to one another, so that we could cover multiple locations more easily in single trips. It is also important to determine hours of operation and days open or closed. This becomes even more important as we plan trips to the west, because of the long drive times to get there and back. Another challenge, that is important to us, is taking the time, where ever possible, to visit with people at the locations or to tour the location. "Running in and out" does not help us with our goal of becoming more familiar with the state. Our personal circumstances will only permit a limited number of overnights, and an even more limited number of multiple night trips.
Efficiency in traveling to tour locations is our watchword. We have commented a number of times on how nice it would be to have our starting point be around Kearney; almost equal distant from either side of the state and pretty much a day trip to almost every one of the chosen locations. Oh well, we are pretty certain that everyone participating as tourists has their own challenges!
(Day 3)
Magnolia Hotel – Downtown Omaha

Our first tour venture into Downtown Omaha was to the Omaha Magnolia Hotel. Built in 1923 as the Aquilo Court building, the Magnolia was originally a mixed use building with retail, office and apartment tenants. Over the years it went through a number of remodels and conversions,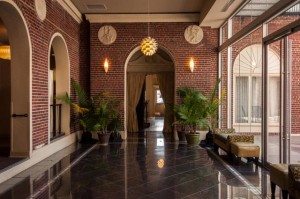 including serving as the Sheraton Omaha before becoming the Omaha Magnolia. The property is situated in old downtown Omaha within walking distance to Qwest Center, historic Old Market, the Orpheum Theatre, Omaha Children's Museum, Holland Performing Arts Center, Joslyn Art Museum and the Century Link Center.
Featuring 145 rooms and suites this beautiful hotel is a premium wedding venue, and is ideally suited for many other events. We did not spend the night here since it is in our backyard, but we toured the lobby, lounge and ground floor courtyard and found them first rate and very inviting. We will gladly recommend the Magnolia Hotel to friends who may wish to visit Omaha, and should we have the occasion to stay downtown we are looking forward to trying out the rest of the hotel.
The General Crook House Museum – Omaha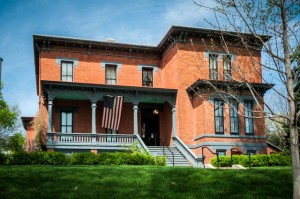 From the Magnolia Hotel we took a short drive to the area in North Omaha known as Fort Omaha. The fort is largely occupied by the Metropolitan Community College. Originally established in 1868 as Sherman Barracks, the Fort became Fort Omaha in 1878 to house the Army's Department of the Platte. Built as a supply fort, General George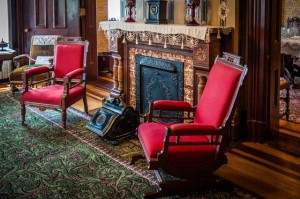 Crook, established the Department of the Platte at the fort in 1878 and served as Commander of the Department. The Crook House is owned by the Douglas County Historical Society and is on the National Register of Historic Sites. The house was built in 1879, with direct input from the General. It is the oldest private residence in Omaha. General Crook was a significant figure in the Civil War and the Indian Wars of the West.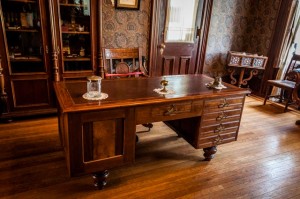 In later years, while he lived in this house he was instrumental in fighting for the rights of Indians. The house is the actual home, surrounded by Victorian Gardens that reflect the times in which the General lived. The house has been restored to reflect the same time period and is as accurate as possible. The furnishings are not original to the house, but have been gathered over the years by the Historical Society. Touring the house, one is amazed at the feeling of authenticity. The restoration and decorating make you feel like the General or his wife could appear at any moment. Of historical note, Presidents Ulysses S Grant and Rutherford B Hayes both stayed as guests in the house when visiting the fort.
(Day 4)
By the time we finished touring the Crook House, it was too late to move to another location, so we decided to put our next location off until the following day. We thought we had done our planing properly and were to learn that we missed some details. Since we had business in the morning we started a bit late on Day 4, headed for Fort Calhoun to visit a wine and beer tasting venue, Too Far North, and Fort Atkinson; along with a third stop further North. Since it was a Tuesday, we didn't check hours, assuming that they would be open on a week day. Upon arriving in Fort Calhoun we found that Too Far North was closed on Mondays and Tuesdays, and didn't open until 1 pm; and Fort Atkinson was only open on weekends, until after Memorial Day, 3 weeks off. We have to come back!
It was past lunch time and we were hungry. Looking around we spotted a restaurant called The Rustic Inn. It wasn't part of our tour, but it was conveniently available and looked interesting. The place turned out to be warm and hospitable. Service was decent and the food was good. If we were in the area again, we would try it again.
We left Fort Calhoun, full, but disappointed that we hadn't racked up any passport stamps
yet for the day. Our next stop was Tekamah. This is one of the locations on the tour that you can't plan to fit in with multiple stops. North of Fort Calhoun, along the Missouri River, there are no other stops in this region. Fortunately it is not so far, (40 miles), from Omaha.
Dick's Western Store – Tekamah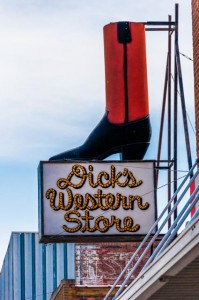 Tekamah, with a population of roughly 1750 people, is the county seat of Burt County. A town where everyone seems to know everyone else, they were particularly friendly to out of town visitors. Our destination was Dick's Western Store. Dick's is a store front retailer on Main Street with an old fashioned, boot shaped sign hanging above the front awning. When we entered the door we found ourselves in a hallway that took us past the local barbershop and into a store that was absolutely bursting with color. The shop is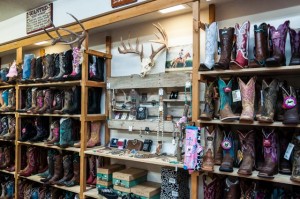 filled from floor to ceiling with a unique and interesting collection of Western Jewelry and Accessories; clothing and an impressive array of western boots of all colors, sizes and styles displayed on shelves throughout the store. In the back was a stairway up to a mezzanine level with an interesting selection of Western tack and saddles.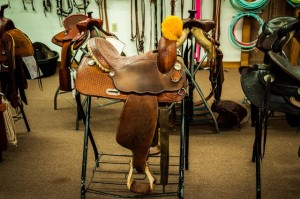 The varied selection of saddles included pieces for sale, and selections form the owner's own collection, their for admiring. We spent some time with the owners talking about the store, the town and they quizzed us a bit about where we were from and our experiences with the Passport program. They concluded our visit by recommending that we visit the Burt County Museum, located in the E.C. Houston Home,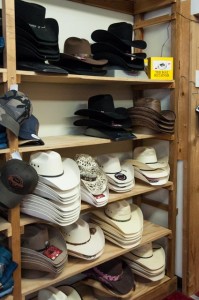 just a couple of blocks down Main Street. We had some time left in the day and decided to give it a try. We met some very helpful and pleasant volunteers and had a very enjoyable tour of the house. The property included a couple of other buildings available for tour, but we just ran out of time. We just might go back one of these days to see the rest of the museum.
We are starting to learn that some of the scheduled stops may not be available when we want; nor take as much time as we thought; but then we are discovering places, not on the passport, that clamor for our attention. We will most certainly have to keep a list of things to visit again, perhaps at a slower pace.