Category number two on the Sabbatical To Do List is a few little projects I'd like to get done at my own house.  Really, it's one larger project and I'm not sure I can do the largest part by myself so the potential of completing it is low unless I can get Dennis on board.  Since he has considerably less time off than I do in the next few weeks, I suppose this is an aspirational project – so I won't get my hopes up.
What I'm hoping to get done is to finish a section of my backyard with a nice pea gravel path.  Last year, we took out two small trees that were too large for the corner of the backyard and put my grandparent's picnic table that we recently rehabbed in that spot.  It's a great spot to eat in the summer, nestled in the corner of the garden with greenery all around, but the section of yard you have to walk to reach it is bare dirt, or actually, full of weeds at the moment.  We need to level out the dirt in the area and fill it with pea gravel.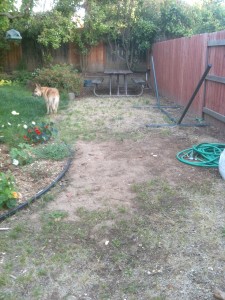 Additionally, it's very dark in that corner of the yard so over the past few months, I've collected some vintage oil lanterns that I'd like to mount to the fence, along with some Woolly Pockets filled with greenery to really make it a lush garden dining room.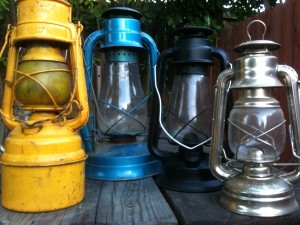 So, perhaps by July 4th, we'll have a nice little pathway to our picnic table in the garden.  But at the very least, we'll have some ambient light while we stargaze…..