In honor of bees, bats, butterflies, birds and beetles everywhere, the last week of June has been set aside to celebrate pollinators.  If you're concerned about declining honey bee populations, the number one thing you can do to help is to become a beekeeper!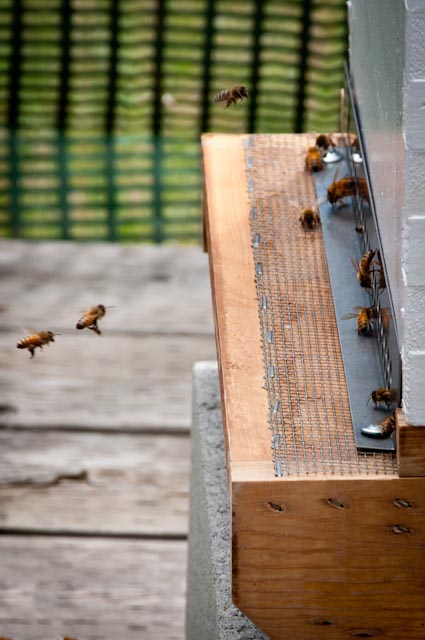 It's actually easier than you might think – we took an eight hour Beginning Beekeeping class and joined our local beekeeping association, SABA, who assigned us a "Bee Mentor".  Our mentor invited us to his apiary and spent a few hours answering our questions and sharing his experience.  After reading a few recommended books, and consulting with the friendly folks at Sacramento Beekeeping Supplies, we were officially beekeepers!
However, if you're not able or ready to keep bees, there are other things you can do to help your local pollinators:
Encourage Mason Bees – The Orchard Mason Bee lives in small holes in wood instead of nests.  The males don't sting and the females rarely do.  To build a home for them, use a 5/16th inch drill bit and drill holes into pieces of untreated scrap lumber. Nail them up on fences, trees, or the south side of a building.  Here are detailed instructions.  Or, if you're especially handy, check out these fancy living arrangements over at the Studio G blog.
Make your yard or garden friendly for pollinators
Create a habitat with native plants and water for wildlife – be sure to add wine corks to bird baths for bees & butterflies to drink from too.
Reduce pesticide use.  I've found that the less I use, the more birds, bees and butterflies live in my yard and they in turn decrease the population of undesirable creatures like mosquitoes.
Keep in mind that the birds and the bees aren't the only pollinators – wasps, moths, flies, beetles and bats also do the work to pollinate nearly 75% of our food crops so enjoy the variety of wildlife in your backyard!