Every farm has one. A loyal and dependable hand that will do whatever is asked, cheerfully. They live to please and to be close….and unfortunately, Every farm loses at least one of these hands over time. As is often the case, we underestimate the value of this relationship until it passes and then we grieve.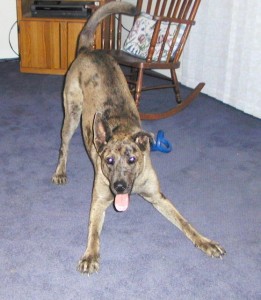 The Lamm Farm lost such a hand this week.  Our farm dog, Dallas, was with us roughly 11 years. He was big … 90 – 100 lbs.; he was fierce to other dogs that strayed onto his property, or the deer passing through, or the neighbor's chickens who came into our yard to scratch in the flowerbeds; he was gentle with family members, especially the two little granddaughters who loved to hug and pet him, and who will not understand where he has gone.
He was a house dog, if we were in the house, but would not be satisfied with indoors if any of "his people" went out doors. He loved to follow us around the farm and if we were doing something that kept us stationary for a while, he enjoyed finding a comfy spot, out of the way and stretching out in the sun. He slept in our room and sometimes awakened us with his snores, or his dream state barks at who knows what?? As a good watch dog he also told us when there were abnormal sounds outside of the house – often we guessed that it was deer using the dark of night to eat the plants around the house.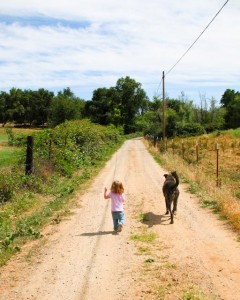 Dallas was a "pound puppy". We found him at the SPCA when we were searching for the "right dog". He was different in appearance, well mannered for a young dog, and seemed to have just the right spirit.
The shelter said he was part Australian Shepherd and maybe German Shepherd. We had raised shepherds of both kinds before and we were pretty sure this was not correct. It didn't matter. We weren't looking for "breed", we were looking for "dog"! And we got one! Over the years we felt that perhaps he was Great Dane and shepherd mix. We had never owned a Great Dane, but he had coloring and markings that were similar to some we had seen. His head shape was not right, but that could have been the shepherd influence. Over the years it was fun to speculate, but again, it didn't matter. About 8 months ago, on a visit to the vet, a vet tech came out from the back and asked who owned the "Catahoula" named Dallas. I told her that Dallas was mine, but I didn't know what a "Catahoula" was.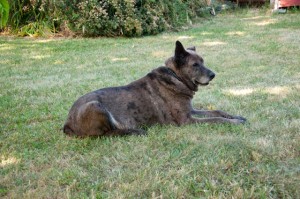 She explained that it was a herding and hunting breed from Louisiana and encouraged me to look it up on the Internet. I did exactly that when I got home, and the first few pictures I found could have been litter mates! Reading the background and breed characteristics I realized that we now knew what kind of dog he was.
As large dogs are prone to do, Dallas developed mobility issues. A combination of maladies conspired to slow him down to a hobble and in the final few days he was unable to get up or to stand on his own. There was little more that we could do for him. We took him to the vet and with what dignity was left, relieved him of his pain and fruitless struggles to stand. He is now buried on the farm where he lived and was loved. We will miss him terribly.