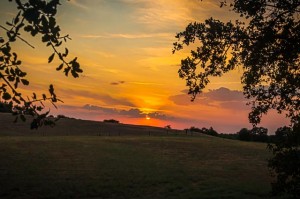 REVISIONS—Our blog entries have been limited over the past year. Farm work and family circumstances have combined to eat up "free" time and the blog has suffered. It is time to get caught up and to discuss what some folks already know. When we started The Lamm Farm venture we visualized a physical focal point for the family. A place for the development of shared memories; a place for rallying to in time of need; a place to hold in common for the future. At the same time we always knew that things change and our visions can be reshaped. The time is coming for us to leave the farm and move on to new adventures.
CHANGES – In the past year (or so) Dave's Mom and Gloria's Dad have passed away, reshaping family responsibilities and needs. In addition, their off farm employment activities have diminished as a result of the economy. Scott, Melissa and the girls relocated to Denver in response to work opportunities; and Amy and Dennis are increasingly occupied with their respective work activities, making time for the farm a precious and diminishing commodity. We shared the opportunity to work closely together and to accomplish a number of our farm projects as a team. We have collectively developed some good memories that we will hold, so one goal accomplished. However, it is no longer practical to hold on to the physical farm. As such, plans change. The Lamm Farm is for sale.
MIGRATION – Curiously we find ourselves participating in a migration reminiscent of times past; except in the opposite direction. Scott, Melissa and their family left California to relocate to Denver, and given the mobile nature of corporate living, could move again. Dave and Gloria have found that the signs point to leaving California to be closer to Gloria's mother, in Nebraska. They met there originally and are looking forward to returning to a Mid-Western lifestyle. Go Big Red! Amy and Dennis are anchoring the family's roots in California, for now, but the nature of their work allows them to speculate on a relocation of their own in the future.
THE FARM CONTINUES – While the farm in Lincoln, CA is being sold, the spirit of the Lamm Farm will continue. We will find opportunities to gather and to create new memories. We will share stories of our new adventures with one another, and with our friends. We expect to continue The Lamm Farm in spirit, in photos and on the blog. The subject matter won't be much about Lavender, but our new lives will provide new material.
FARM FOR SALE – Our philosophy and plans having been addressed, it is time for a little business. The Farm is current listed for sale. We have a purchase contract pending (back up offers considered.). If all goes well, we expect to close escrow on Christmas Eve. In the interim we are selling lots of "farm stuff" and things that are not practical to move to Nebraska. We don't plan to hold an actual sale day , but if you are local and interested in looking around, let us know.
We would like to thank everyone who supported the lavender venture and those who showed support for the farm in general. We will miss all of that activity, but we are looking forward to what comes next. Stay tuned to the blog for more.