Every year in mid-March, I head to San Francisco (or rather, San Mateo) for the San Francisco Garden Show.  I always take a day off from work so I can visit the show early in the week and round up whichever of my gardening friends are available to make the trip.  But this year, we kicked it up a notch.  The plans have been brewing for weeks and we made the pilgrimage on Tuesday and Wednesday this week.
Carri (front yard veggie gardener extraordinaire) was the driver and I was the fairly competent navigator (GPS reader) and after getting coffee, gassing up, picking up a forgotten FastTrack pass and totally spacing on getting cash, we headed off to the bay area.
First stop:  Our friend Chuck's place in Bernal Heights.  He took us out for lunch at the Liberty Cafe and then we headed over to Flora Grubb – a fantastic urban nursery that Carri and I had yet to visit.  They had an amazing selection of succulents, air plants and furniture, as well as your typical nursery plants.
They have an enormous old car filled with plants and other recycled materials on display outside.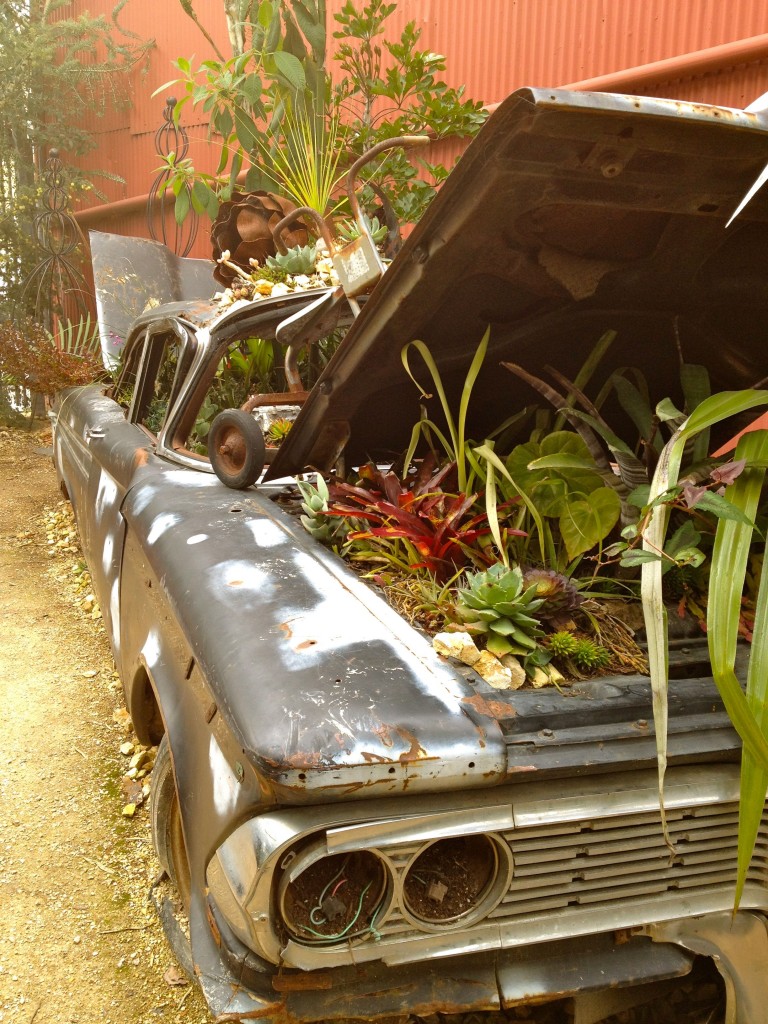 Inside, there is a brightly colored wall decorated with air plants and an old, ornate window.
On the flip side is a wall of plants!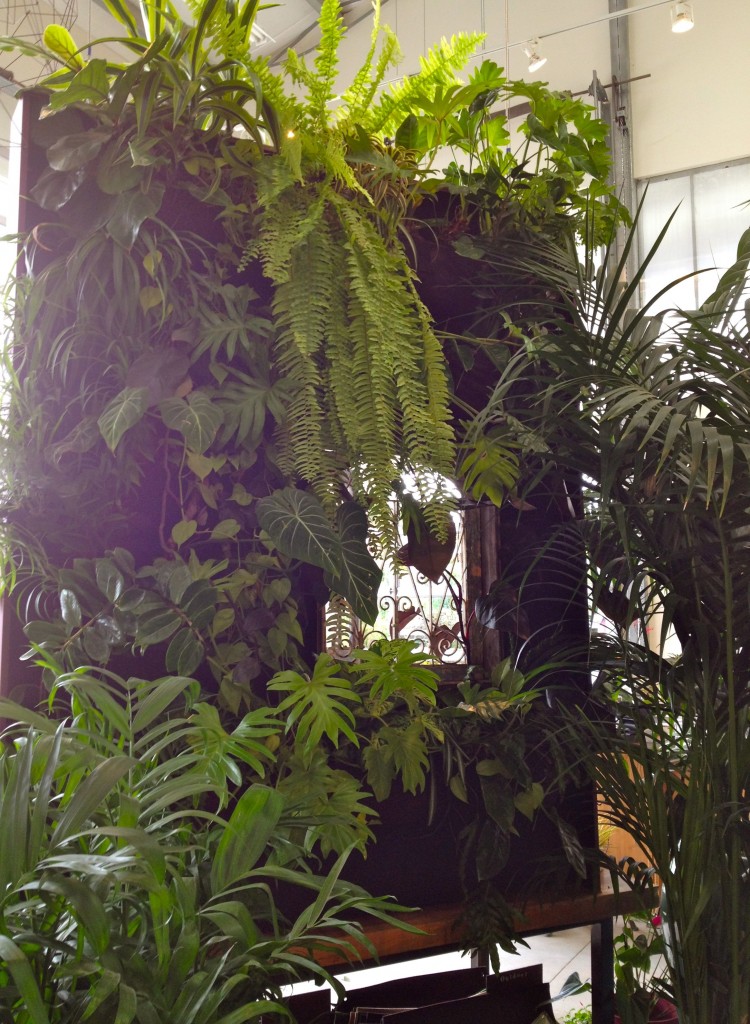 Check out this old sink full of pitcher plants…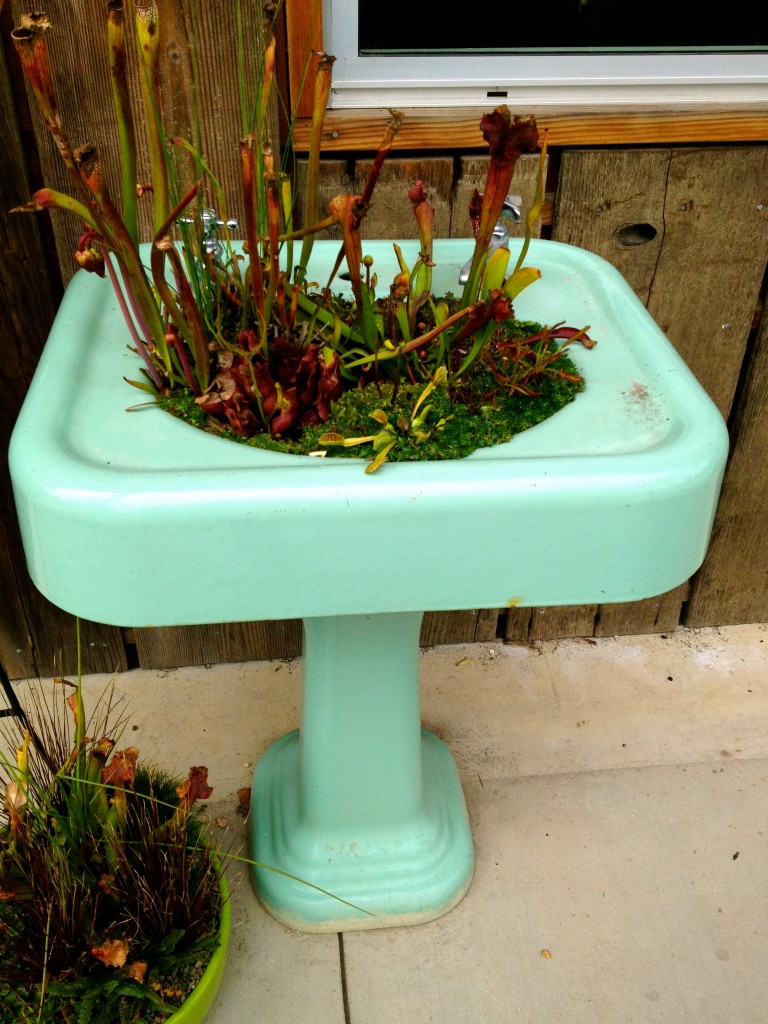 The reason for our trip here was to score one of Far Out Flora's Staghorn Fern Mounts.  Mission accomplished – that one in the lower left corner is now in my house!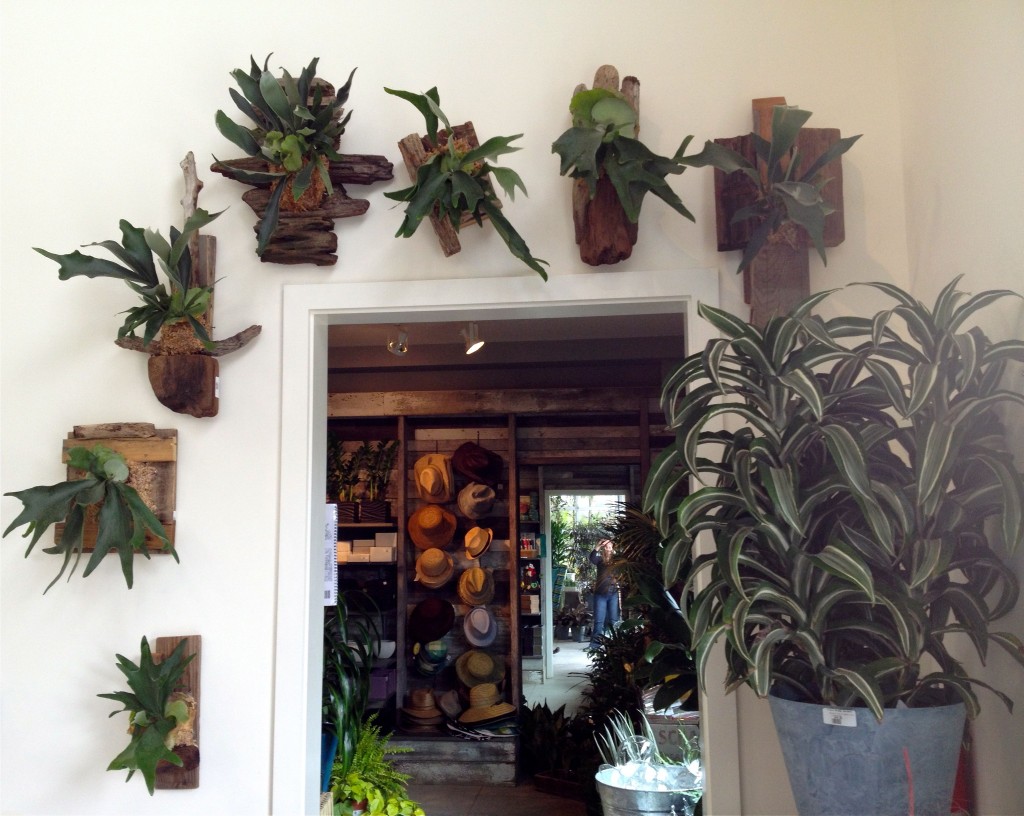 After Flora Grubb, we got a tour of Chuck's garden.  His blog is called My Back 40 (Feet) for good reason – he has a three story house in SF with the most amazing garden.  It's chock full of layers of interesting plants that he's always moving around and changing out.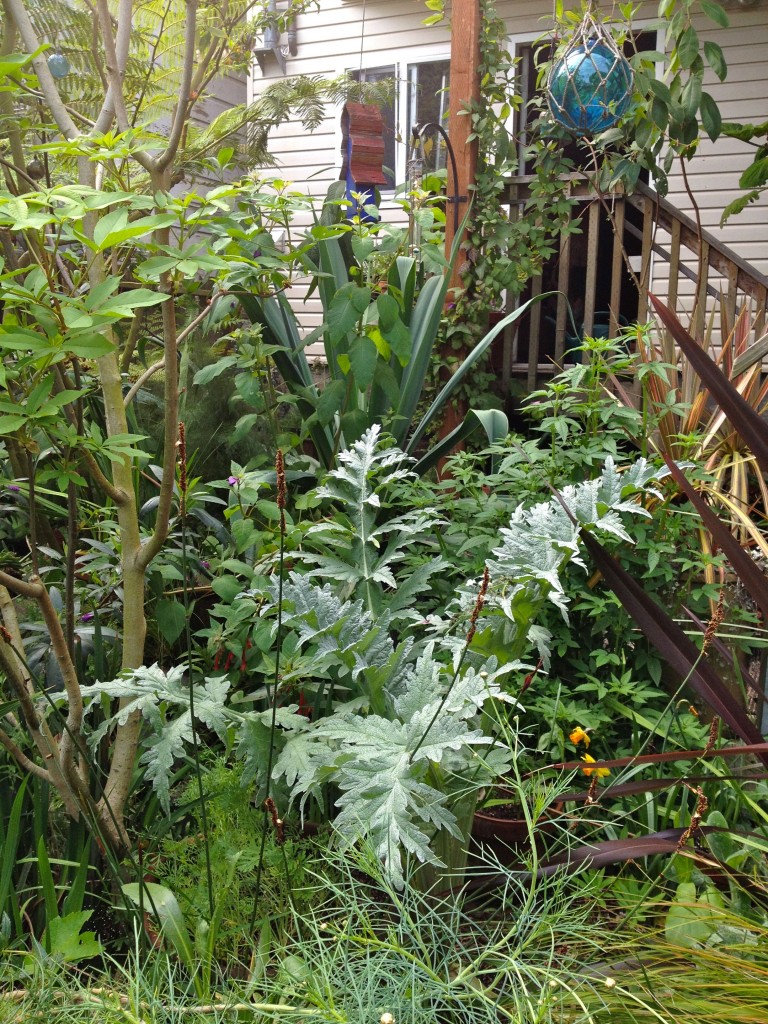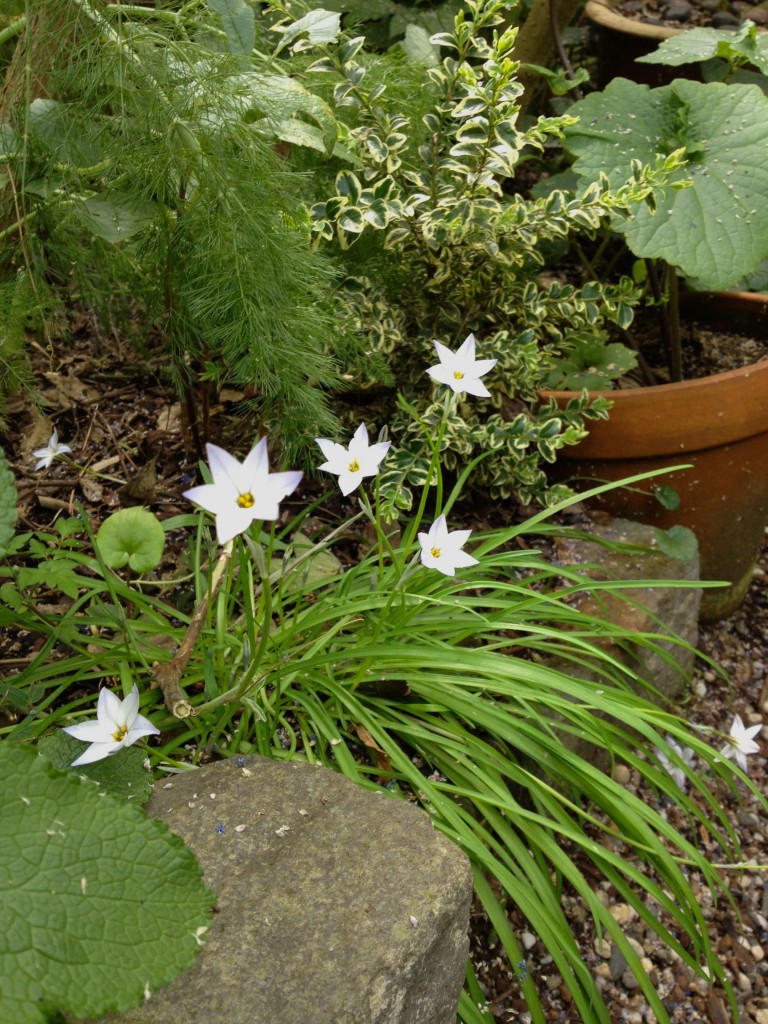 Here's Chuck – he's currently babysitting a beehive for a friend that's residing on the deck above his head. As an aside – he can keep bees on a balcony in San Francisco, but the City of Roseville won't allow us to keep bees in our backyards.  Ridiculous.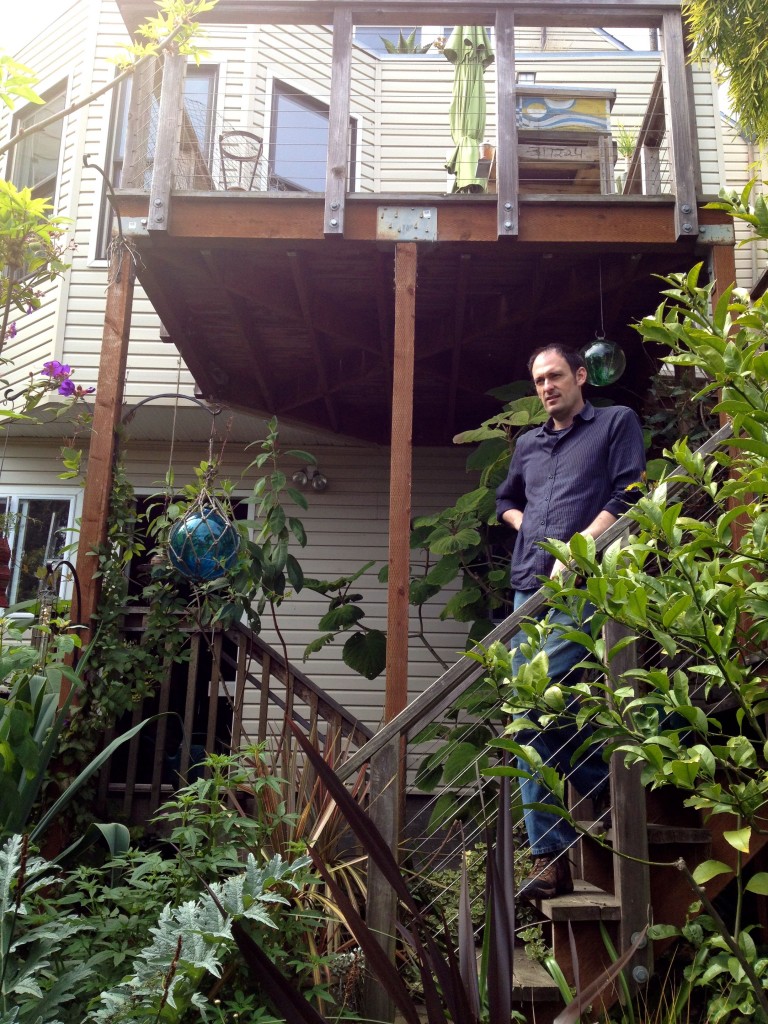 And here's a look out at the bees and his view of the city….beautiful!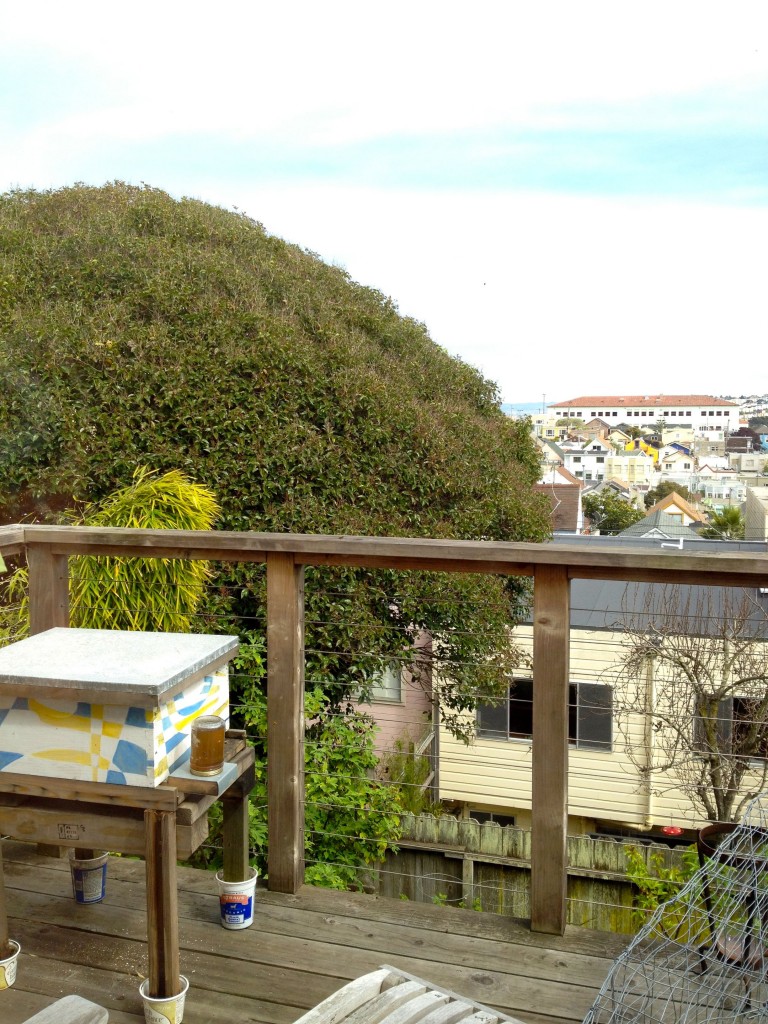 After visiting with Chuck, we headed to Los Altos to a garden party hosted by Rebecca Sweet and Susan Morrison, both garden designers, in Rebecca's garden.  Her garden is impeccable (as you might imagine) and we had a fantastic time connecting with other gardeners.  Most of us have met online through Twitter, but it was a treat to meet them in real life.
And finally, on Wednesday, we headed to the Garden Show at the San Mateo Event Center.  If you haven't been and enjoy plants and gardening, you must make the trip.  This isn't a "home show" with a bazillion spa vendors.  This is a garden show with beautiful display gardens and vendors catering to those of us who spend the weekends puttering with plants.  Someone this week said that the garden show should be like fashion week. Over the top displays that aren't necessarily practical in the big picture, but that have great ideas you can incorporate into your own garden.
The big hit of the show seemed to be the "Dragon Garden" for good reason.  It had a giant dragon!  This was truly the over the top display of the show – more art than gardening, but amazing to see all of the intricate pieces.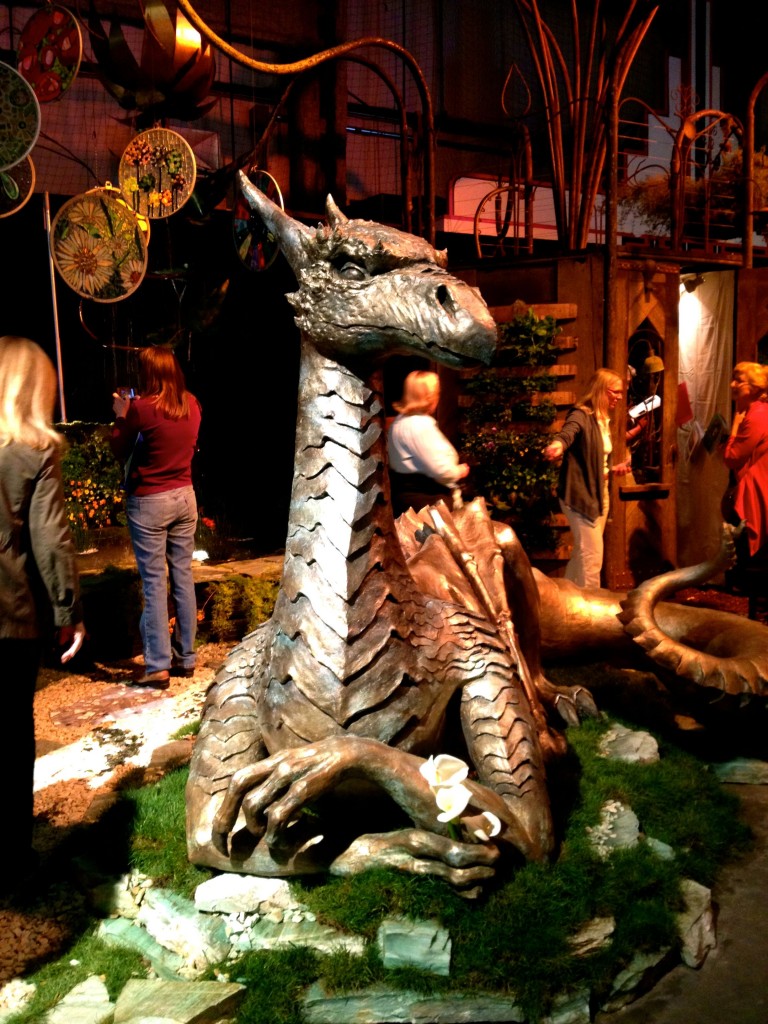 Urban Farming is definitely the trend of the past few years and certainly gives us lots of ideas for the farm.  Chicken gardening is "in" – we even hung out with Jessi Bloom, a garden designer who wrote the book Free Range Chicken Gardens who is speaking at the show this week.  If you're interested in keeping chickens, while keeping your yard and garden in one piece, you should check out her book.
We found this chicken coop with a spiral staircase leading to the hen house: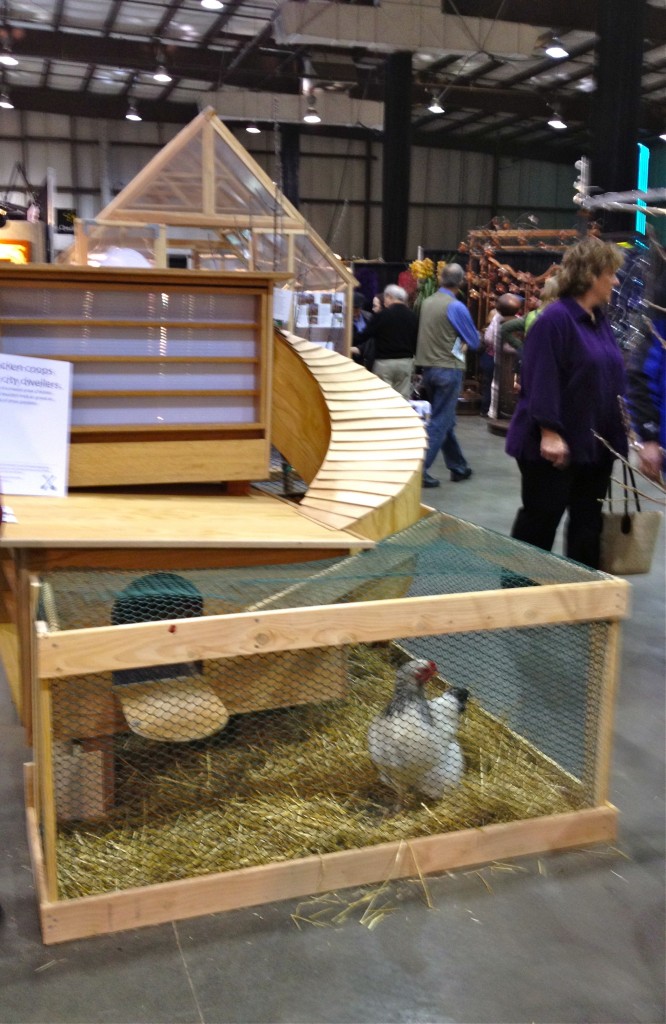 Composting is also a popular topic and I found this display very interesting since we're about to start our own compost area soon.
In the show gardens, I loved this bathtub fountain.  They were actually brewing compost tea in it, which gave it a very murky look and it was in a location that made it difficult to get a good photo.  However, we have an extra bathtub or two laying around the farm and I love the idea of turning it into a fountain!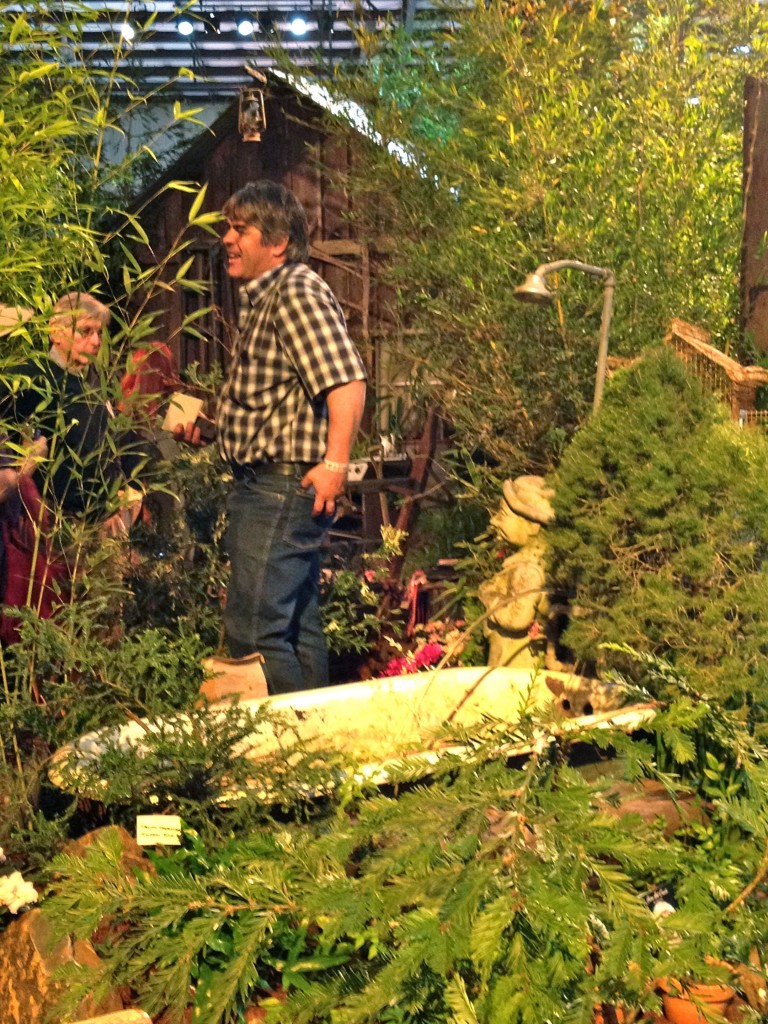 I loved this cold frame made with old windows and reclaimed lumber.  It is sized to fit on a balcony if you're trying to garden in a small space.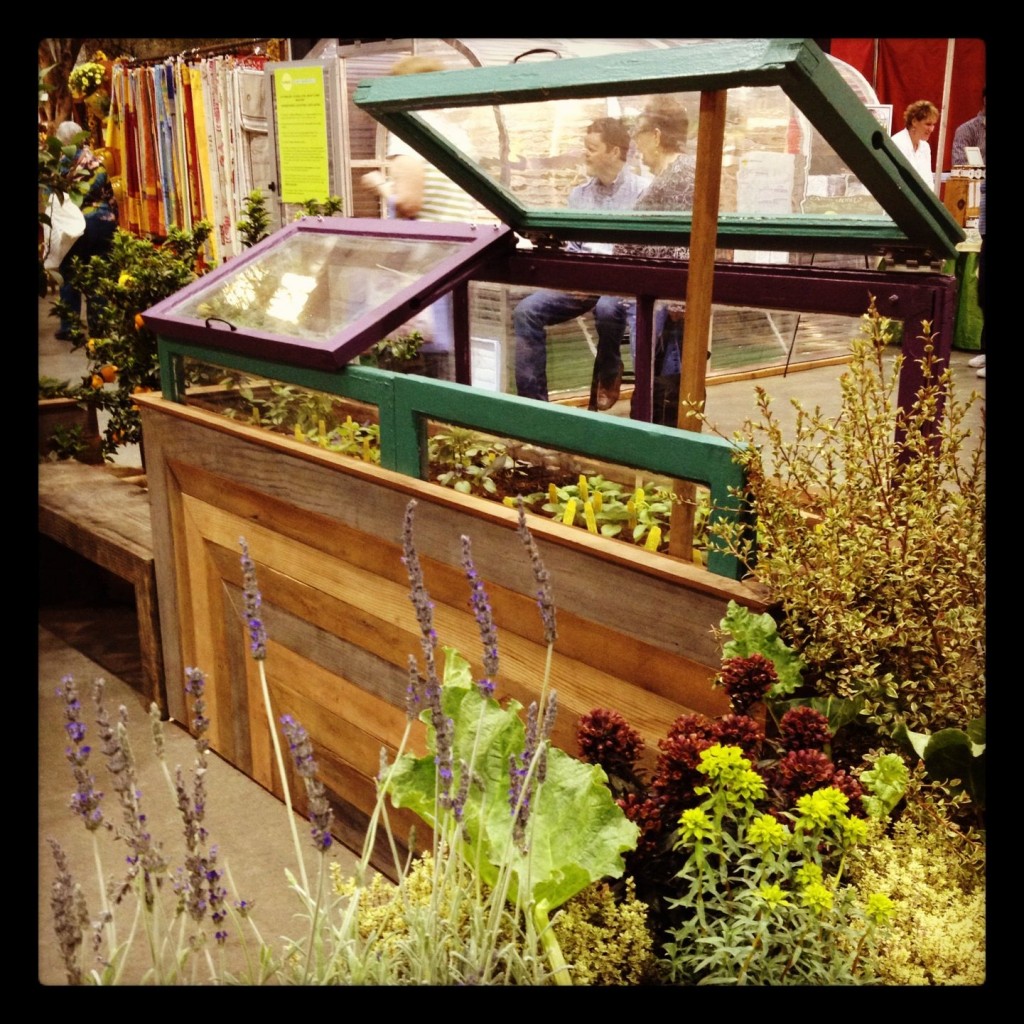 More examples of recycling and reuse were everywhere.  From dumpsters used as planters to a pallet-turned-table with succulents down the center.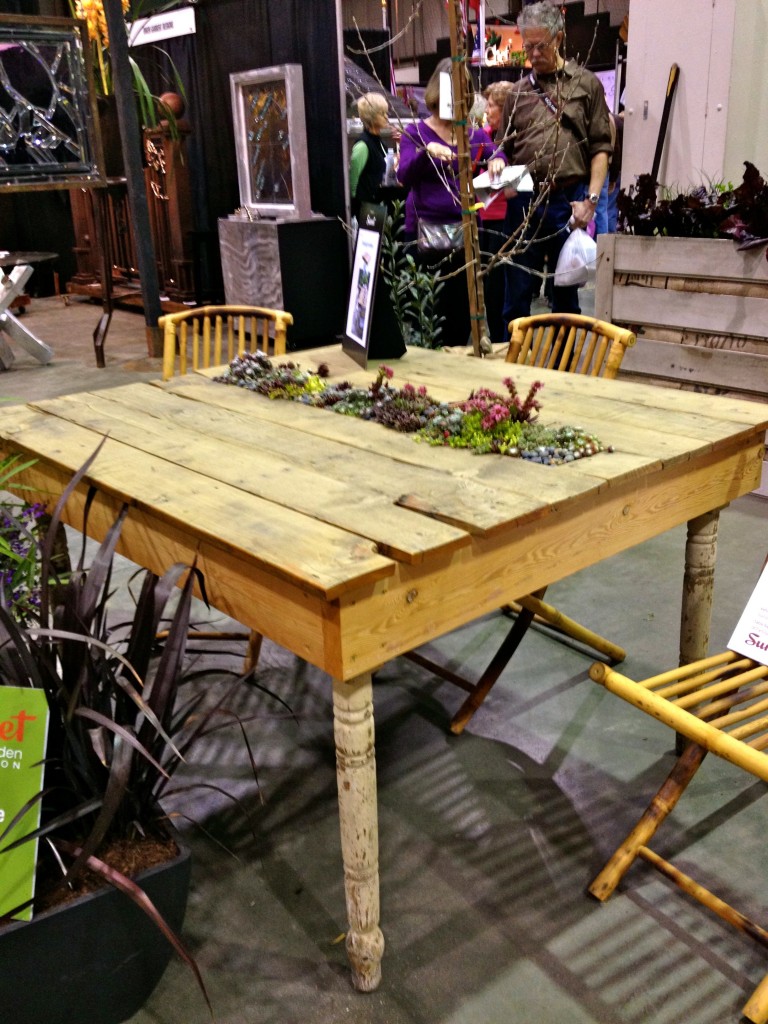 Of course, I didn't escape with my wallet intact.  All of the big, specialty nurseries are there.  I did the most damage at Digging Dog where I picked up an Oak Leaf Hydrangea (to replace one that didn't make it a few years back) and my new prized possession that I have been obsessing over for awhile now, the Hakuro Nishiki Willow.  I also picked up a Baby Burro Tail at Succulent Gardens and a hanging air plant too.
If you want to go to the show, it's not too late!  It runs all weekend so escape the rain and start planning this summer's garden.